Four Things That Microsoft Has Never Done Before
Windows 10 has become the point of the spear for a whole new set Microsoft's software licensing strategies, in which longstanding licensing structures and concepts are discarded or reversed.
Many of these new ideas have major implications for how customers plan, manage, and budget for their Microsoft software. I've picked four important changes that have major implications.
Charging Customers for Updates
Until now, Microsoft has been generous with updates that patch, fix, amend, and improve a given product. A wide range of problems are patched or improved in the first five years of a product's liecycle, at no cost to the customer.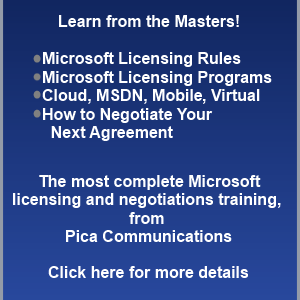 Microsoft has now instituted service "branches" (for Windows and other products) and "channels" for Office. These periodically stream updates, including entirely new applications, to customer on a regular schedule. But some are no longer free. Software Assurance (an extra 29% a year for Windows and 25% a year for servers) is required for "Current Branch" updates on a few products, including some editions of Windows, Windows Server, and System Center.
Expect this model to become the norm in the future.
Software Assurance was one of Microsoft's worst ideas and I spend much of my working day saving customers millions of dollars by killing this zombie, which outlived its usefulness about 13 years ago. But it will continue to stagger through the enterprise collecting this new tax on software updates.

Forcing Patches on PCs
Not only will Microsoft will step up its update and new feature release cadence, but customers will not be able to deselect any of the patches included in the standard monthly patch release.
Until now, patches have been listed separately by KB (Knowledge Base) number and customers could look at the accompanying KB article to see if, for example, they felt a need to patch their computers so that they would display Daylight Savings Time in Egypt or Dengxian fonts correctly.
The new approach cures what Microsoft calls "patch-fragmented operating systems," a problem I have not heard of before. In my experience, customers deselect patches from the monthly update list because they have some reason to do so.
But Microsoft dislikes the idea that a customer would turn down any patches, especially those like my practice of either not installing or actively uninstalling every patch associated with Windows 10 upgrades for the last year. In the future my computer will be pwned by Microsoft and such rebellion will be crushed.
While customers can't back out a single KB they can back out the entire upgrade. Everything removed will be reinstalled in next month's cumulative patch, so this will substantially increase the overhead of managing Microsoft products to ensure that they perform optimally and don't interfere with other software.
Abandoning Consistent Support Timelines
Microsoft's new "Modern Lifecycle Policy" is, as I read it, an end to any consistent commitments to support for a product.
The old policy for business software, in place since 2004, says that Microsoft provides free service packs and updates, (including both security and non-security patches) for at least five years after release of a new version and it provides security patches for free for another five.
This gives business customers clear targets for retiring old products and moving to new ones. They know that support for Windows 7 ends entirely by Jan. 14, 2020, so they can plan to migrate 33% of their current Windows 7 installed base for the next three years to get off Windows 7.
In the future, a product will be supported "as long as customers stay current as per the servicing and licensing requirements published for the product or service and have the rights to use the product or service." Whenever that is.
This takes us back to the bad old days before 2004 when Microsoft roughly supported things for a few years but, if enough customers pushed for it, they'd stretch it out a bit longer. No predictability, just Microsoft's whim.
The best Microsoft will do is "provide a minimum of 12 months' prior notification before ending support for products governed by the Modern Policy without providing a successor product or service." In many large organizations full retirement of a given operating system, SQL Server database version, or Windows Server version takes much longer than 12 months. That time frame is a crash, emergency migration.
Stripping Functionality
Microsoft reserves the right to change functionality, including removing important features, at much shorter notice.
The EULA for Windows 10, for example, says "By accepting this agreement, you agree to receive...automatic updates without any additional notice." Customers who were using Windows 10 Professional with Microsoft's App-V virtualization product were told on July 5, 2016 that the Professional edition of Windows would no longer support App-V in the Anniversary Update, which shipped 28 days later, on August 2, 2016. In other words, the "update" meant the product now longer worked as well as before, intentionally.
Many organizations depend on App-V for at least some applications and this change gave them less than a month to come up with $300 per PC for Windows 10 Enterprise with Software Assurance and then upgrade the OS on all affected PCs.
What you pay for may not be what you end up with.

Impacts
Customer Testing
Customers on the Current Branch must designate some employees as Windows Insiders or Office First Release users to ensure that they have some insight into upcoming changes that could affect their computing environment. This cannot be limited to IT professionals. Front-line users of SAP, Adobe, Oracle, and other third-party products must be guinea pigs while they do their day jobs, to ensure that their applications don't break and they get enough notice about a toxic upgrade from Microsoft to reverse it, beg either or both Microsoft and the third-party vendor for a fix.
Total Cost of Ownership
TCO formulas for Microsoft products need to reflect the increased customer overhead for ongoing testing and deployment of frequent upgrades, removing applications that they don't want on users' desktops, and other duties required to ensure a stable and predictable computing environment for users. Help desks need to be beefed up to handle desktop changes when they are rolled out. When Microsoft puts a new application on users' desktops, for example, most users will assume this product has been fully vetted and endorsed by management. The help desk, which may be seeing the application for the first time, will need to answer questions about it.
Planning
Long-term (3-5 years) planning and budgeting must provide flexibility, since Microsoft's product delivery and support are now far less predictable. A lack of predictability always works in Microsoft's favor because customers are more likely to overbuy or overpay to provide some protection against detrimental changes.
It doesn't work as well for customers. Aside from the substantial cost of overpaying, Microsoft may announce a 12-month retirement deadline halfway through a customer's fiscal year. Unbudgeted engineering or consulting resources may be needed in the current fiscal year in order to meet the deadline.
Third-party software vendors must stay on top of ongoing changes and should expect Microsoft to use its new, iron grip on the customer desktop against them. It's not easy to compete with a company that can ship a new application to a billion PCs any time they feel like it, without notice or customer approval.