Successfully Navigating Merger and Geographic Challenges Results in Massive Savings
A global corporation wants to shift to a less-costly US price list and integrate a large acquisition. In addition, managemant wants massive cuts--more than $100 million--in IT's budget over the next three years. With assistance from Software Licensing Advisors and Pica Communications, the company's volume licensing agreements are substantially restructured and the company achieves about 20% of its savings goal through this one contract alone.
Multiple Contract Challenges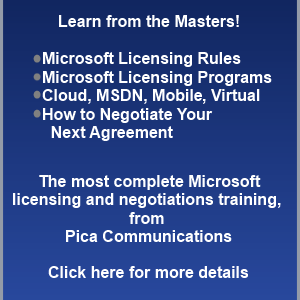 As it entered the final year of its contract with Microsoft, a Global 500 firm realized that its current Enterprise Agreement had to be restructured. Its price list was denominated in Euros, and the Euro's growing strength against the US dollar over the last five years meant the company was paying about 30% more for its Microsoft software than its US-based competitors.
The company had also acquired a large American firm that had an Enterprise Agreement terminating several months before the European parent's agreement. The company was uncertain about the best way to blend the two agreements.
While it sought significant savings, the firm's makes significant investments in research and manufacturing, and it was important that savings not threaten the company's ability to innovate and make investments in production facilities.
In addition, the company had more than 100 distinct IT units that made collecting data and getting consensus on IT directions difficult.
Selecting a Consultant
The company looked for assistance, asking three consulting firms with experience in Microsoft licensing, contracts, and negotiations to present proposals. Software Licensing Advisors (SLA) was selected as the finalist.
SLA's proposals included
extensive on-site discussions with the customer's technical leadership,
development of a detailed, product-by-product deployment roadmap to determine the risk of either purchasing software they would not deploy or of losing capabilities or Software Assurance benefits that were important to their operations,
two 2-day workshops on Microsoft licensing and negotiations strategies, in Europe and the US,
development of use profiles that could segment the customer's various business elements and reduce costs by ensuring that different business units, such as manufacturing, research, and finance were not saddled with a "one-size-fits-all" licensing solution,
analysis of cash flow and cumulative spending for the next nine years for various options,
detailed modeling of multiple licensing options from an operational and financial perspective, enabling the customer to make intelligent decisions that balanced cost, risk, urgency, and capabilities,
and determing the ratio of capital and operating expenses for each model.
Merging Contracts
The immediate concern was to handle the termination of the acquisition's agreement, and none of the options presented by Microsoft were satisfactory. The customer wanted to renew the agreement for just a few months so it would terminate at the same time as the parent corporation's agreement. The licenses from both companies could then be combined in a new agreement, with potential reductions in licensing costs resulting from consolidation of the two firms' data centers.
Microsoft told the firm that it could not extend the contract for just a few months, and recommended a one-year renewal. On the signing of a new agreement, Microsoft would credit the firm with the extra months of payment.
SLA advised the customer that short-term agreement extensions were common. They noted that Microsoft's one-year-extension proposal was also not permitted by the customer's contract, so if Microsoft could waive that contract restriction, it could easily accommodate an even shorter extension. If no satisfactory solution was reached, the customer could renew Software Assurance in a Select Plus agreement for software where that was advantageous and drop Software Assurance on other products.
Faced with the prospect of the smaller acquisition embarking on a licensing path that would result in much lower revenue for Microsoft and that might set a precedent for the parent company's agreement, Microsoft reversed its position a week before the acquisition's agreement expired and offered it a short-term extension, as SLA had suggested it could.
Modeling the Road Map
SLA's interviews with the company's technical leadership suggested that the company could standardize for some time on its current licensing entitlements for many products, eliminating the need for Software Assurance.
SLA built multiple forecast models that included
various combinations of Software Assurance on desktop and server software,
different blends of user and device Client Access Licenses to fit special requirements,
moving some software licensing to the Microsoft-hosted cloud servers, in either the near term or in subsequent years,
measured roll-outs of upgrades that would spread costs over multiple years to reduce cash-flow peaks,
purchase models that emphasized license-only capital purchases, offering the customer higher depreciation allowances in future years,
and other factors.
While Microsoft was proposing that the customer spend about 20% more than in the past, partly through a new Server and Cloud Enrollment, SLA's models showed that the customer could cut its software spending by more than 40% with little impact on its operations.
Getting the Right Information
SLA also challenged many of Microsoft's interpretations related to the shape of the contract and the data required for renewal.
For example, Microsoft refused for more than five months to provide the customer with a Microsoft Licensing Statement (MLS), stating that it could not provide an MLS without first conducting a company-wide software audit. SLA informed the customer that an audit is not a requirement for obtaining an MLS. An MLS can usually be ordered and delivered within a week, as other SLA customers do routinely.
Other misleading advice from the Microsoft account team suggested that the company could not
shift its agreement from Europe to the US,
change from a Euro to a US dollar price list,
or get an indirect agreement, which would allow the reseller to separately bill dozens of company operating units around the world.
SLA challenged those assertions and assisted the customer in escalating its concerns to senior Microsoft management. The company was able to realize all of its goals for the contract structure.
End Result
In the end, the customer achieved cost savings of about 40% that will make a significant contribution to achieve its IT savings goals. Most of these savings will come from software expenses that would deliver no value to the firm, and they reduce pressure on the company to lay off employees or to cut back on R&D and manufacturing upgrades, all of which are critical to the company's competitiveness.
The company's new agreement gives the customer a tighter relationship with Microsoft's US-based leadership, which could promote better co-operation in the future, and the indirect billing concession saves the customer a significant headache in managing accounts payable for dozens of operational units.
The new agreement also promised that more software will be purchased as a capital expense, which offers tax advantages over Software Assurance and cloud subscriptions for the company.
Software Licensing Advisors' fee amounted to less than two per cent of the company's 3-year savings.
Contact Information
This document was last modified on: